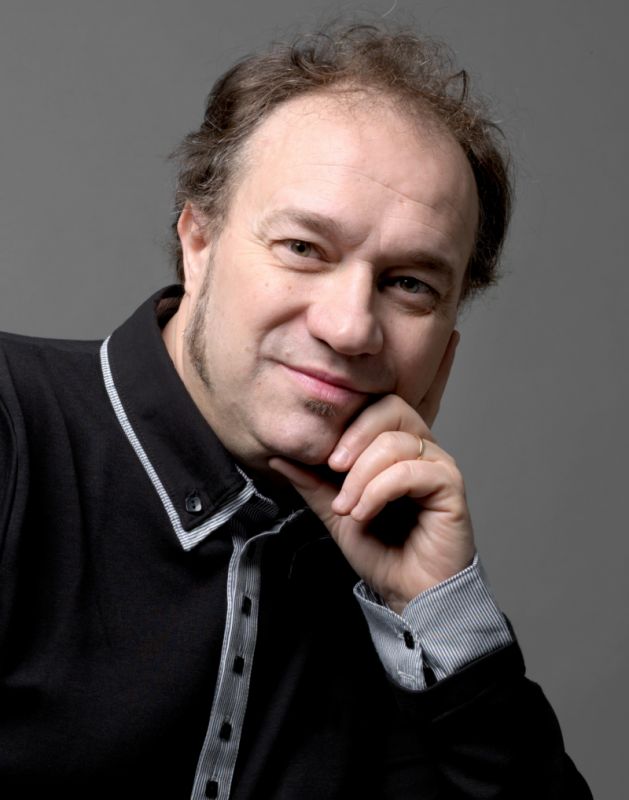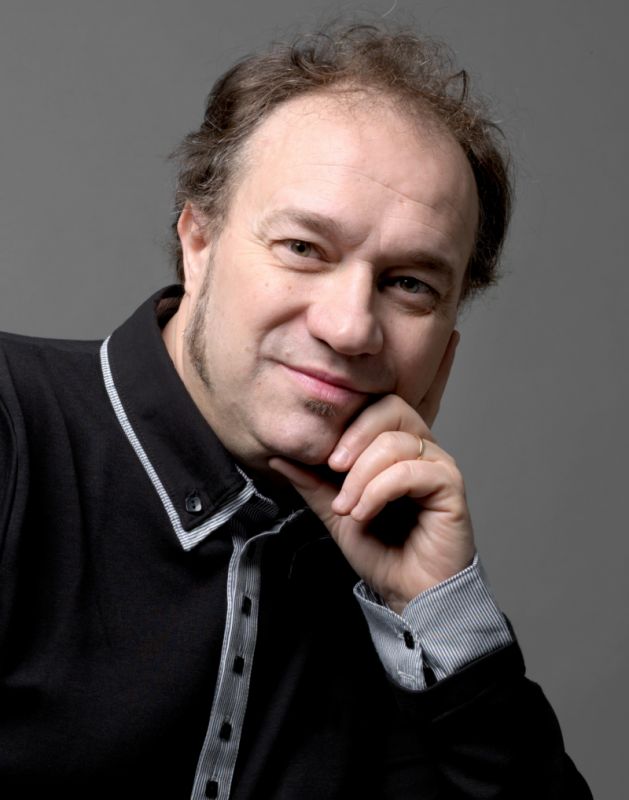 Rodolphe Briand
---
Artiste lyrique
Biography
Rodolphe Briand began his career as an actor/singer and director of the theater company «Les Galas Panique». He took part in many shows at the Festival d'Avignon and in different Parisian theaters. He performed for example in How Much is your Iron ? by Brecht, La Cagnotte by Labiche, La Fausse Suivante by Marivaux at the Comédie Française, Le Bébé de Monsieur Laurent by Roland Topor... At the same time, he appeared in several musicals : Le Tour du Monde en 80 jours, Cats, Les Misérables, Kiss me Kate...
In 1994, Rodolphe Briand began a career in opera by taking voice lessons with J.P. Blivet, then got into the Ecole d'Art Lyrique and the Centre de Formation Lyrique de l'Opéra National de Paris. In 1997, he won the Concours International de Marseille.
Since then, his great acting and singing skills led him to sing on all the main international stages. In France he has sung at the Chorégies d'Orange (Carmen), the Opéra National de Lyon (L'Enfant et les Sortilèges), the Théâtre du Châtelet in Paris (Hamlet and Louise), the Théâtre des Champs-Elysées (Die Fledermaus), the Capitole de Toulouse (Les Contes d'Hoffmann, Le Nozze di Figaro, L'Homme de la Mancha), in Bordeaux (Les Brigands/**Falsacappa by Offenbach in Jérôme Deschamps' production, La Belle Hélène, Orphée aux Enfers), Strasbourg (Turandot/Altoum, Les Contes d'Hoffmann, Falstaff/Bardolfo, La Grande Duchesse de Gérolstein/Fritz, La Belle Hélène), Avignon (Die Zauberflöte/Monostatos,Evgenij Onegin/Monsieur Triquet), Madama Butterfly/Goro, La Forza del Destino/Trabucco), in Nancy (Les Brigands, Les Contes d'Hoffmann, Evgenij Onegin), in Nice (La Grande duchesse), in Monte Carlo (Falstaff, L'Homme de la Mancha, La Fanciula del West and Das Rheingold/**Mime).
Regularly invited by the Opéra National de Paris, he has sung there Les Contes d'Hoffmann, Le Nozze di Figaro, La Forza del destino, Zauberflöte...
He has also been seen on the most important international stages such as le GrandThéâtre de Genève (Manon Lescaut, Tosca/*Spoletta, Jean-Jacques Rousseau a creation by Philippe Fénelon, La Grande Duchesse de Gerolstein), Lausanne (Tom Jones, Falstaff), Liège (Falstaff, The Man of la Mancha/Sancho by Mitch Leigh alongside José Van Dam's Don Quichotte, Les Contes d'Hoffmann/the four valets,La Périchole, La Vie Parisienne, Andrea Chénier/Incredibile), the Teatro Real in Madrid (Manon/Guillot de Morfontaine), the Teatro la Fenice in Venice (Carmen/Remendado), the Teatro Massimo in Palermo (Manon), the Teatro Petruzelli in Bari (Dialogues des Carmélites/L'Aumônier*), the Bayerischer Rundfunkorchester (Manon), Beijin (Les Contes d'Hoffmann), Sao Paulo (Carmen)...
He has been invited by the conductor Ivan Fischer to take part in the productions of Le Nozze di Figaro and Zauberflöte on tour in Budapest, Berlin, New-York (Mostly Mozart Festival), Abu Dhabi...
In 2009, he appeared in the production of Carmen (le Remendado) conducted by Daniel Barenboim that opened the season of the Teatro all Scala. In Milan he also sang Les Contes d'Hoffmann and Manon.
Among his upcoming projects, Tosca, Manon and Les Contes d'Hoffmann in Monte-Carlo, Werther and Wozzeck (Der Narr) at the Paris Opera, Die Zauberflötein Budapest, Bruges, Amsterdam and at the Lincoln Center, Carmen at the Théâtre des Champs-Elysées, Falstaff, Manon and Madame Butterfly in Marseille,L'Homme de la Mancha in Avignon, Le Nozze di Figaro in Edinburgh...
Find in