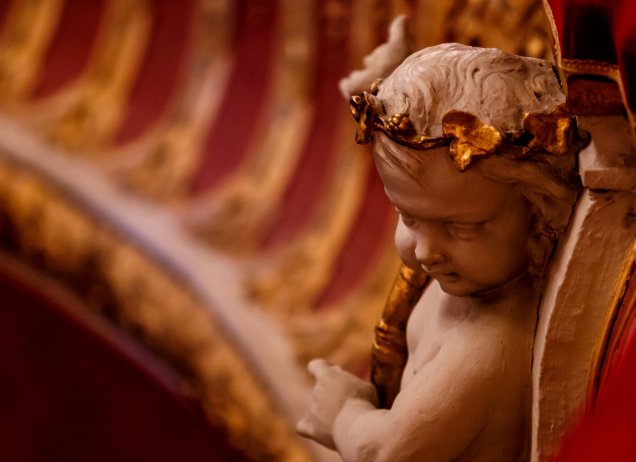 La Maîtrise
1 .
Les Petits Chanteurs de Strasbourg, children's choir of the l'Opéra national du Rhin
While training at the Opéra national du Rhin (OnR), our young singers at the Maîtrise rub shoulders with major international institutions. They have their own season schedule and tour all over Europe.
Aspiring choir members from 7 to 18 years can audition before Director Luciano Bibiloni and his team. The Maîtrise accepts children with all levels of prior experience, as long as they're motivated and their voice is sufficient for in-depth training. The annual audition process starts every June. Once admitted, young singers attend voice coaching and choir rehearsals several times a week. In addition to their weekly work, they perform their own season schedule. The children's choir also makes regular recordings.
---
Artistic and Musical Director
Born in La Plata, Argentina, Luciano Bibiloni took his first steps as a choir singer at the age of four. As a child, he practiced with his country's best teachers: Susana Romé (piano), Roberto Régio (violin and viola), and Reynaldo Censabella (voice). From 1995, he studied composition and conducting at La Plata National University. He worked as a conductor and performer on the side, mainly at Teatro Colón in Buenos Aires and Teatro Argentino in his native town. After earning his teaching degree, he left the country to train in Spain with the composer Josep Soler, and in France, mainly with the Paris Conservatory (CNSM).
Bibiloni earned an advanced diploma in choir conducting at the CNR in Paris under Patrick Marco, in orchestration and analysis under Alain Louvier, and in ancient music under Olivier Trachier. He also completed his singing degree at the Conservatoire Darius Milhaud in Paris.
Since his arrival in France, he has made a name for himself in choral and orchestral music, directing regional projects for several chapters of the À Cœur Joie federation (Paris Ouest – Yvelines, Provence, Alsace). He also worked with first-rate ensembles such as Ensemble Vocal Mélanges, Chœur de l'Orchestre Colonne, and Les Voix d'Ile de France. He has been working regularly with the Maîtrise de Paris for the past three years. Bibiloni has taught choral singing at several conservatories in Paris and the Île de France region, notably at the École Nationale de Musique in Bourg-la-Reine and the conservatories of the City of Paris. As solo tenor he regularly performs at oratorios and concert operas.
He has conducted several orchestral ensembles (Sinfonieta de Paris, Europa Musa, Les Muses Galantes, Les Musiciens de Mademoiselle de Guise, Bad-Godesberger Kantatenorchester, etc.) and also worked as artistic director (Orchestre Symphonique du Val-de-Marne, orchestra of the Festival au Pays du Mont-Blanc).
He was musical and artistic director of the children's choir of Saint-Etienne Cathedral in Toulouse for over 4 years before becoming Director of the Petits Chanteurs de Strasbourg, the OnR's children's choir, in September 2013.
Since being founded in September 2001, the Petits Chanteurs de Strasbourg have taken an active role, not just in Strasbourg proper, but also in the Alsace region, throughout France, and abroad. The choir's trademark is its eclectic but well-rehearsed repertoire of original pieces.
The Petits Chanteurs have had unforgettable performances with the Strasbourg Philharmonic Orchestra, the Opéra national de Lyon and the Opéra national du Rhin, the Jeunes Voix du Rhin, the choirs of the Bratislava Opera, orchestra conductors such as Michel Plasson, Bertrand de Billy, Daniel Klajner, Jan Latham-Koenig, or jazz and pop artists such as Richard Galliano, Amel Bent, Garou, Jean-Jacques Goldman, Céline Dion, and Julien Clerc. The children's choir also recorded a DVD (Korngold's Die Tote Stadt in 2002) and appeared in Michel Deutsch's film Hôtel de l'esprit in 2006.
The choir has travelled and performed in various French regions (Burgundy, Alps, Normandy, Centre...) and throughout Europe (Austria, Belgium, Czech Republic, Germany, Italy, Luxembourg, Portugal, Spain, Switzerland, and the UK). In January 2008, the Maîtrise played seven concerts on the new Zénith-Europe stage with France's favorite pop singers for the charity event Les Enfoirés. This unique experience produced a triple-platinum album and diamond-certified DVD and was broadcast by TF1 to over 10 million viewers worldwide. Another memorable experience is the choir's performance for the French national holiday on 14 July 2008 under the Arc de Triomphe.
In the 2009/10 season, our three-year partnership culminated in the Petits Chanteurs' officially becoming the OnR's school for young singers (Maîtrise). Now part of a national opera house, both the choir's structure and educational work have become more professional. Working with full-time artists in a professional setting has boosted the children's motivation and progress. Members of the Maîtrise perform on stage for various productions: Das Rheingold by Richard Wagner, Boris Godunov by Modest Mussorgsky, Werther by Jules Massenet, or more recently, La Nuit de Gutenberg by Philippe Manoury. They also sing at young audience concerts.
The OnR is always seeking to expand its educational mission and develop its own profile. During the 2012/13 season, the children's choir participated in The Magic Flute,Tosca,Owen Wingrave and The Cunning Little Vixen.
In 2007, they recorded their first album of French 19th century vocal music, with unpublished pieces by Delibes, Fauré, Saint-Saëns, Berlioz, etc. This recording paved the way for many more, most notably for Bayard Presse. The choir most recently worked on a new recording of Werther by Jules Massenet, which features the orchestra of the Opéra de Lyon, Elina Garança, Ludovic Tézier, Jean-Philippe Lafont, etc. Universal Music-Deutsche Grammophon released the album in 2010.
How much does it cost?
The membership fee is set each year at the general assembly (€130 for this year).
introduction seminar (approx. €150)
price of choir outfit, which you can buy at the swap meet at the beginning of each season
Please note that we don't want money to be a hurdle. If your child really enjoys the activity, please talk to us.
Contact
Petits Chanteurs de Strasbourg, Maîtrise de l'Opéra national du Rhin
6 rue Klein, 67000 Strasbourg
President : Arsène Dahl
Artistic and musical director : Luciano Bibiloni • lbibiloni@onr.fr
Choir conductors : Cécile Bienz, Béatrice Iltiss
Accompanying pianist : Roselyne Koeniguer
Voice coaching : Susan Griffiths, Christophe de Ray-Lassaigne, Kim Marie Woodhouse et Cécile Bienz
Choir management : +33(0)3 68 98 75 70 • maitrise@onr.fr
Every year, the four choirs of the Maitrise recruitnew singers.
Auditions for the upcoming season start in June. Admission requirements:
At least 7 years (CE1 level) or at least 17 years (1ère level)
A healthy voice
Motivation and self-organization – depending on which level, the choir takes up a lot of time
The men's choir of the Maîtrise also recruits amateur tenors and bass singers for in-depth musical work to develop a repertoire for equal and mixed voices. Director Luciano Bibiloni and his teaching staff decide about any admissions to the children's choir of the OnR. Choir members must join every rehearsal of the season, starting from 3 September 2018. For their first year, children join as "little singers in training" (petit chanteurs stagiares). Parents and children commit to joining regular and irregular rehearsals, concerts, operas, etc. They must respect others and their environment and be motivated to progress. The director and his team do a performance review for each new child at the end of November. For the upcoming years, we hold review auditions between May and June. Singers are rated on progress, social skills and work ethic.
---
Enrolment is closed for the 2018/2019 season