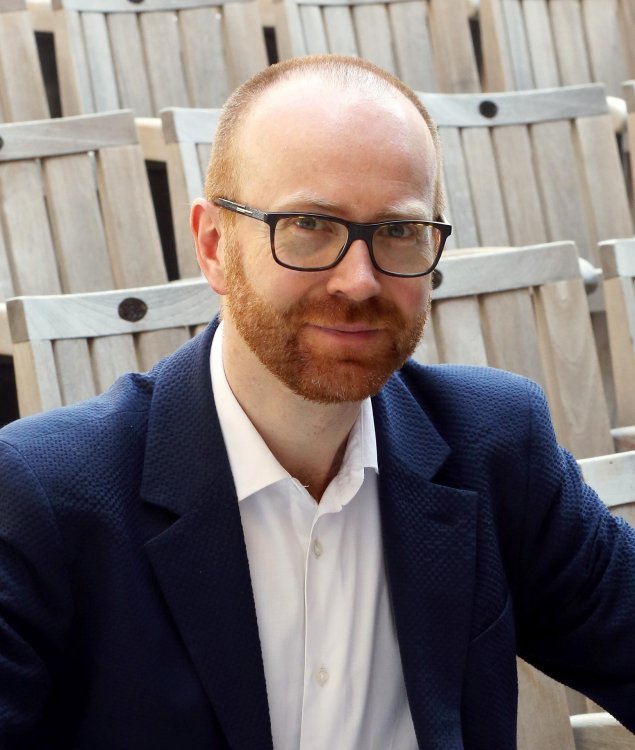 Managing Director
---
Alain Perroux
Born in Switzerland in 1971, Alain Perroux studied the Arts at Geneva University (Musicology and German Literature), and choral conducting (with Michel Corboz) and singing at the Geneva Music Conservatory. After eight years in music journalism (at the Journal de Genève, then Le Temps), he worked as a dramatist for the Grand Théâtre in Geneva from 2001 to 2009. He then went on to be the Director of Artistic Management at the Aix-en-Provence Festival. In 1998, he created a version of Ibsen's and Grieg's Peer Gynt for actors and singers for the Orchestre de la Suisse Romande, the recording of which by Aeon/Harmonia Mundi has won many awards (Diapason d'or de l'année, Choc du monde de la musique) and for which he also undertook the stage direction for the dialogues (in three languages with actors including Lambert Wilson, Susanne Lothar and Sir Derek Jacobi). This version of the concert has since been reprised in Prague, Essen, Cologne, Dortmund, London, Vienna, Graz, Limoges and Montpellier. He has published books introducing opera (L'Opéra, mode d'emploi, 2000 and 2015) and American musicals (La Comédie musicale, mode d'emploi, 2009), and monographs (Frank Martin and Franz Schreker), and is editor-in-chief of several collective works. From 2003 to 2011, he led the Opéra de Poche of Geneva, an independent opera company with whom he staged works in several towns in French-speaking Switzerland (stage production and direction): Debussy's Impressions de Pelléas in 2004 and 2011, Cavalli's La Calisto in 2006 and Sondheim's Sweeney Todd in 2008 and 2009. He wrote his first opera libretto for the creation of Xavier Dayer's Contes de la lune vague après la pluie. In 2015, he also wrote the French adaptation (Monstre du labyrinth) of Jonathan Dove's opera The Monster in the Maze created by Simon Rattle at the Aix Festival, as well as adaptations of dialogues in Offenbach's Orphée aux enfers and La Belle Hélène for the Opéra national de Lorraine. In January 2020, he was appointed Managing Director of the Opéra national du Rhin (Strasbourg, Colmar and Mulhouse).
Translation in English: Helen Sontag
Alain Perroux, nouveau directeur général de l'Opéra national du Rhin
À l'issue d'un rigoureux processus de sélection mené conjointement par les Villes de Strasbourg, Colmar, Mulhouse et le Ministère de la culture et de la communication, un consensus unanime s'est dégagé en faveur d'Alain Perroux pour assurer la direction générale de l'Opéra national du Rhin, à compter de janvier 2020. Cette nomination résulte de la concertation et des objectifs communs entre l'État, les Villes de Strasbourg, Mulhouse et Colmar, la Région Grand Est et l'Eurométropole. Alain Perroux succèdera à Eva Kleinitz et Bertrand Rossi qui ont programmé la saison 2020-2021 et assurera très rapidement la préparation et la programmation de la saison 2021-2022. Né à Genève, le 1er janvier 1971, Alain Perroux est diplômé de la Haute école de musique de Genève en Direction chorale et branches théoriques, titulaire d'un Master de Lettres (musicologie et germanistique) à l'Université de Genève. Il fut journaliste musical au Journal de Genève (sa ville natale) et pour le grand quotidien national suisse de langue française Le Temps entre 1991 et 2001 mais aussi conférencier, avant d'entamer une carrière de dramaturge au Grand Théâtre de Genève entre 2001 et 2009. Il a été, en parallèle, directeur de l'Opéra de Poche de Genève (de 2003 à 2011), compagnie indépendante dont il encadrait la programmation, la production, le financement mais aussi la mise en scène. A l'Opéra de Dijon il fut, de 2007 à 2009, conseiller aux distributions. Alain Perroux est par ailleurs l'auteur, outre de textes pour la scène ou pour des enregistrements de grands labels (Warner Classic, Deutsche Grammophon, Decca…), de plusieurs ouvrages consacrés à la musique et à l'opéra - notamment L'Opéra, mode d'emploi (éd. Premières Loges, 2000 et 2015), L'Opéra, miroir du monde (chez Actes Sud, 2018) dont il a assuré la direction éditoriale. Il devient ensuite dramaturge au Grand Théâtre de Genève (jusqu'en 2009), puis au Festival d'Aix-en-Provence où il est également conseiller artistique puis Co-Directeur de l'administration artistique. Poursuivant ces activités complémentaires de mise en scène et d'écriture, il fait paraître plusieurs livres, monographies, L'Opéra mode d'emploi et La Comédie musicale mode d'emploi, ainsi que des disques de présentation d'opéras, des articles pour les dictionnaires, catalogues et programmes. En tant que Directeur de L'Opéra de Poche à Genève entre 2003 et 2009, il produit et met en scène Impressions de Pelléas d'après l'opéra de Claude Debussy en 2004 (également à Cernier et Monthey), La Calisto de Cavalli en 2006 et Sweeney Todd de Stephen Sondheim en 2008 (également à Vevey, La Chaux-de-Fonds et Villars-sur-Glâne). Par ailleurs, il a également signé en 2015 l'adaptation française du Monstre du labyrinthe de Jonathan Dove (qui continue encore une immense tournée) ainsi que le livret des Contes de la lune vague après la pluie (d'après le scénario du film de Kenji Mizoguchi) composé par Xavier Dayer, représenté à l'Opéra de Rouen et à l'Opéra Comique de Paris.