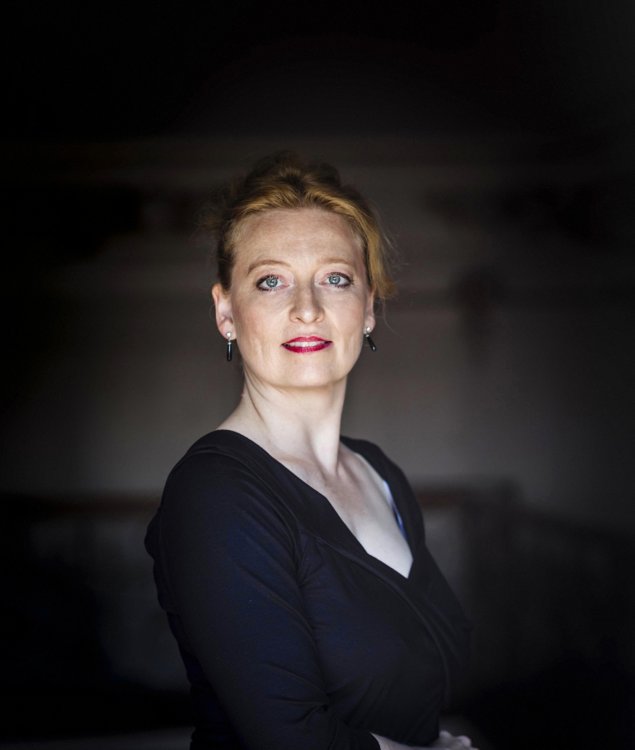 Managing Director
---
Eva Kleinitz
On 1st September 2017, Eva Kleinitz took over from Marc Clémeur, who held this position at the Opéra national du Rhin (OnR) since 2009.
Born in Langenhagen near Hanover, Eva Kleinitz studied musicology, psychology and Italian literature at Saarland University. She wrote her thesis on the opera "Francesca da Rimini" by Riccardo Zandonai and graduated in 1998.
Since 1991 she has worked as a direction and dramaturgy assistant at the Bregenz Festival and numerous other theaters and opera houses: Klagenfurt, Avignon, Nîmes, Paris, Strasbourg, Spoleto, Cologne, and Schwetzingen. She has also worked with various directors, most notably Daniele Abado, Philippe Arlaud, Götz Friedrich, David Pountney, or Jérôme Savary.
From 1998, she was artistic director at the open-air festival and at the Festspielhaus in Bregenz. She was in charge of casting, dramaturgy, contracts, workshops and programme scheduling. In 2000, she became director of the artistic department and spokesperson for the managing director, Alfred Wopmann, and held this role until 2003. From 2003 to 2006, she was managing director of the Bregenz Opera and deputy director of the Bregenz Festival, as well as authorized representative of the Festival's managing and stage director, David Pountney.
During this time, she worked closely with stage directors such as Robert Carsen, Francesca Zambello and Phyllida Lloyd and orchestra conductors such as Sylvain Cambreling, Fabio Luisi, Yakov Kreizberg, Vladimir Fedoseyev, Ulf Schirmer, and Marcello Viotti.
From 2006 to 2010, she became head of artistic planning and production at La Monnaie / De Munt. This includes the 2007/08 season, when Peter de Caluwe started as managing director. She was artistic advisor to the managing director and sat on the board of directors at La Monnaie / De Munt. During this period, she worked with stage directors such as Pierre Audi, Robert Carsen, Deborah Warner and Krzysztof Warlikowski and orchestra conductors René Jacobs, Hartmut Haenchen, Marc Minkowski, Kazushi Ono, Marc Soustrot, Carlo Rizzi, Christophe Rousset, and Jérémie Rhorer and the choreographers Sidi Larbi Cherkaoui, Akram Khan, Ann-Teresa de Keersmaeker, and Sasha Waltz.
From the 2011/12 to the 2016/17 season, Eva Kleinitz was artistic director and vice director in the management team of the Stuttgart Opera, together with managing director Jossi Wieler, music director Sylvain Cambreling, and chief dramaturgist Sergio Morabito. Among other distinctions, Stuttgart was awarded the title "Opera House of the Year" by the German review "Opernwelt" for the 2015/16 season.
In this position, Kleinitz worked closely with conductors such as Andres Erozco-Estrada, Giuliano Carella, Teodor Currentzis, Gabriele Ferro, Hartmut Haenchen, Marko Letonja, Daniele Rustioni, Michael Schoenwandt, and Marc Soustrot, with staff musical director Sylvain Cambreling and stage directors Andrea Breth, Calixto Bieito, Andrea Moses, Peter Konwitschny, Kirill Serebrennikov, not forgetting Jossi Wieler and Sergio Morabito, stage directors at the Stuttgart Opera.
In October 2013 at the Autumn Congress in Wexford, Ireland, Eva Kleinitz became the first woman and the first German to be elected president of the Opera Europa association, a position she held until May 2017.
Since 2005, she has been a regular visiting lecturer and workshop instructor at Showa University of Music in Shin-Yurigaoka, Kanagawa prefecture, Japan. She also gives regular classes at the Accademia della Scala di Milano.
From January 2015 to May 2017, she was part of the editing team of the EU-funded Opera Platform, a website managed by Opera Europa and the TV station ARTE.
She regularly sits on juries for international singing competitions such as the Francisco Viñas Competition, Concorso Lirico Internationale di Portofino, Aslico Como, the Paris Opera Competition, etc.
On 31 March 2016, she was unanimously voted Managing Director of the Opéra national du Rhin. On 1 September 2017 she took over the post from Marc Clémeur, who had held it since 2009. Her appointment was negotiated between the French State, the cities of Strasbourg, Mulhouse and Colmar, and the regions Grand Est.
During her time at the head of the Opéra national du Rhin, Eva Kleinitz unceasingly and boldly placed the spotlight on little known works from the repertoire such as Francesca da Rimini by Zandonai, The Temple of the Golden Pavilion by Mayuzumi, Barkouf! by Offenbach, La divisione del mondo by Legrenzi and more recently Beatrix Cenci by Ginastera. One initiative in particular will remain a symbol of her desire to set the Opéra national du Rhin on the path to other adventures – the creation of the cross-disciplinary festival ARSMONDO which she crafted with her artistic advisor and dramatist Christian Longchamp. After devoting her first edition to Japan in 2018, then Argentina in 2019, it is India's turn to be the festival's guest country in 2020.
At every instant, Eva Kleinitz showed how passionate she was about the artists, making the Opéra national du Rhin a seedbed of creativity since September 2017, to which so many can bear testimony, such as the stage directors Mariame Clément, Tatjana Gürbaca, Barrie Kosky, Ludovic Lagarde, Jetske Mijnssen, Amon Miyamoto, Mariano Pensotti, David Pountney, Nicola Raab, Pierre-Emmanuel Rousseau, Nicolas Stemann, Marie-Eve Signeyrole, Frederic Wake-Walker, Jossi Wieler and Sergio Morabito. Uplifting collaborations with Marko Letonja, the musical director of the Strasbourg Philharmonic Orchestra, and Patrick Davin, then Jacques Lacombe, conductors of the Mulhouse Symphonic Orchestra, ensured the top-quality musical backdrop to the lyrical productions she staged. She also opened the door to a number of singers making their debut in new roles and warmly supported and guided the youngest amongst them, in particular the members of the Opéra Studio. She enthusiastically supported the work led by Bruno Bouché at the head of the Ballet of the Opéra national du Rhin.
Eva Kleinitz died on 30 may 2019 after a long illness.