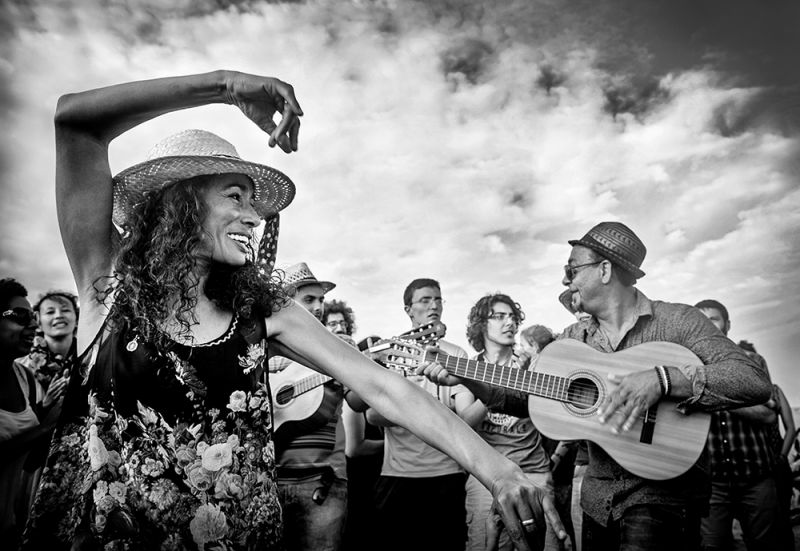 Jeannette Gregori
The Roma through the lens
---
Part of the Arsmondo Roma Festival.
---
When over a decade ago Strasbourg-based photographer Jeannette Gregori set out to chronicle the day-to-day life of the Roma community, she wanted her documentary project to tell a human story through an artistic lens. "The expulsions that began in France in 2010 strengthened my resolve to do something to recognise their dignity," she says. She goes on to confess how her romanticised image of a group of freedom-loving nomads suffered a rude awakening as she witnessed first-hand the harsh reality of the municipal edicts and regulations imposed on the community. "I promised myself that my camera would never misrepresent the community or sugar-coat their living conditions." A promise that gained her acceptance into Roma camps in Alsace, Paris and the south of France and enabled her to produce a truly stunning collection of black and white photos.
Dates
Mar 15Apr 03, 2022
6:00 PM
Informations
Exhibition
15 march - 3 april
Opening
15 march 18:00
Q&A
15 march 19:00
Exhibition
The Roma through the lens
The exhibition to be held at the Lieu d'Europe will show some of the most compelling images from Gregori's longstanding project. Portraits, snapshots of daily life and pilgrimages to the shrine in Saintes-Maries-de-la-Mer speak volumes about the community's traditions and values, their poetic celebrations and love for their children. But also, at the periphery of her lens, the vulnerable status of women, the economic and social difficulties they face and the patent discrimination that is the daily lot of the people. These pictures are complemented by a series on the complex, and often painful, relocation of the Manouche community from neighbourhood Le Polygone in 2016. President of anti-racist association LICRA Bas-Rhin Fabielle Angel believes it is essential that Jeannette Gregori's work be shown as part of the Arsmondo Roma Festival's partnership with the OnR. "The choice was obvious," she adds. "Her photos of a community discriminated against more than any other is a work of exceptional sensitivity, grace and respect."
March 15 to April 3
Tuesday to sunday 10am to 6pm
---
Q&A
See, don't stare
Photos, storytelling and concerts are some of the ways for the public to learn about Roma culture. They are crucial to overcoming prejudices against the Roma people and drawing attention to their contribution to European heritage. But it is abundantly clear that running counter to this fascination for these cultures is a backlash against the very people who embody them. How can we avoid looking in a way that does not further stigmatise an already stigmatised group? How can we speak up for this community without taking away their voices? Without imposing an external perspective? How do we combat racism toward a diaspora arguably still one of the most marginalised and least understood in the world ?
Event organised by the anti-racism league LICRA Bas-Rhin with historian Claire Auzias and photographer Jeanette Gregori and hosted by Véronique Leblanc, a journalist and LICRA Bas-Rhin activist.
March 7pm