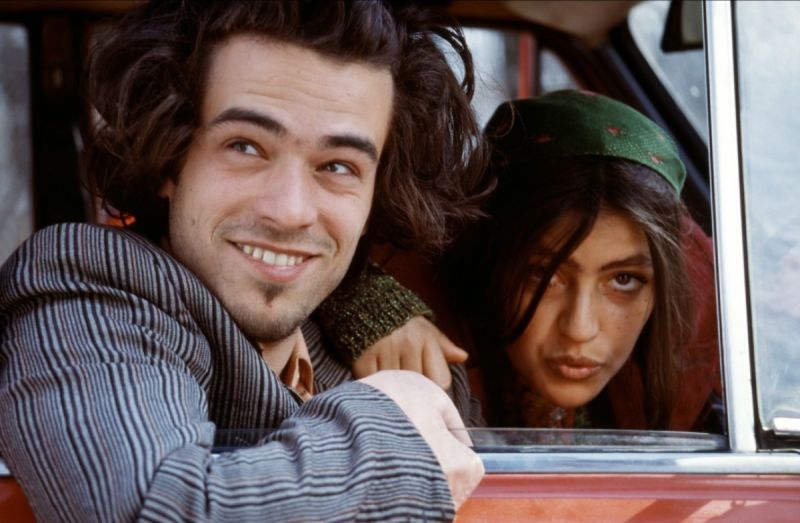 The Roma reflected in the silver screen
Roma film series at the Cinéma Odyssée
---
Part of the Arsmondo Roma Festival.
---
A regular OnR partner, the Cinéma Odyssée will show a collection of six films that immerse audiences into the Travellers' world. Ranging from tender and violent to joyful and tragic, the films will be screened throughout the Arsmondo Roma Festival. Five of the films will be accompanied by Q&A sessions.
Place
Strasbourg
Cinéma Le Cosmos
Informations
Tickets available at the Cinéma Odyssée
For screenings without a Q&A, visit cinemaodyssee.com
L'amour sorcier
Carlos Saura
march 14 8pm
(Spain, 1986, 1:43)
In an Andalusian gitano village, two fathers arrange the marriage of their still adolescent children, Candelas and José. Carmelo, a young boy desperately in love with Candelas, watches from the shadows. Fast-forward ten years and the union has been sealed. While Carmelo still holds a torch for Candelas, philandering José has his sights on Julia, but is killed in a brawl between the beauty's many suitors. Carmelo's hope is renewed, but, suspected of José murder, he is jailed for four years. Incarceration does nothing to extinguish his love for Candelas, and upon his release he begs her to listen to him. But she is possessed by José's ghost…
Screening followed by a Q&A session with Alain Perroux, Director of the OnR
---
J'ai même rencontré des tsiganes heureux
Aleksandar Petrović
march 16 8pm
(Yugoslavia, 1967, 92min)
A wheeling-and-dealing Roma community lives on the vast Vojvodina Plain in Serbia. Bora, a young happy-go-lucky goose-feather seller, acts fancy-free but is in fact married to an older woman. When he meets the young headstrong Tissa, he falls in love. But Tissa's stepfather is Mirta, Bora's business rival and soon to be love rival.
Screening followed by a Q&A session with Alain Perroux, Director of the OnR
---
Gadjo dilo
Tony Gatlif
march 20 6pm
(Romania / France, 1997, 100min)
Stéphane, a young French man from Paris, travels to Romania looking for a singer, Nora Luca, a name found on the cassette his father played over and over in the days before his death. His search leads him to a Roma village where he strikes up a friendship with Izidor, learns about acceptance and discovers a new culture, a new family and love.
Screening followed by a Q&A session with Alain Perroux, Director of the OnR
---
Geronimo
Tony Gatlif
march 26 6pm
(France, 2014, 104min)
South of France. In the sultry August heat, young social worker Geronimo tries to ease tensions between youths in the Saint-Pierre neighbourhood. The mood changes when Nil Terzi, a teenage girl of Turkish origin, flees from an arranged marriage into the arms of her Roma lover, Lucky Molina. Their escape sparks hostilities between the two clans. When the jousting and the music battles begin, Geronimo struggles to quell the ensuing unrest around her.
Screening followed by a Q&A.
---
Le Temps des gitans
march 27 5pm
Emir Kusturica
(Yugoslavia, 1989, 142min)
Perhan, the illegitimate son of a Slovenian soldier and a Roma woman, dreams of a rich and happy life. Raised by his devoted grandmother, he escapes her grip and heads to Italy to work for a child trafficker. He returns home years later, his dreams unfulfilled.
Screening followed by a Q&A session with Alain Perroux, Director of the OnR
---
Aferim!
Radu Jude
(Romania/Bulgaria/Czech Republic, France, 2015, 108min)
A local policeman Constandin and his son scour the barren Romanian countryside on the hunt for a Roma slave accused of having an affair with his noble master's wife. Like the sheriff from an operetta, zealous Constandin comments on every situation with a cheery aphorism. Through a stream of coarse insults, absurd proverbs, narrow-minded beliefs, gratuitous humiliation and threats, Constandin voices his distrust of women, children, the elderly, farmers, Jews, Turks, Russians and, top of the list, Gypsies. A Balkan Western, Aferim! takes a cynical and scathing poke at humankind's intolerance, both past and present.
Warning: this film contains scenes, language and images that some viewers may find disturbing.