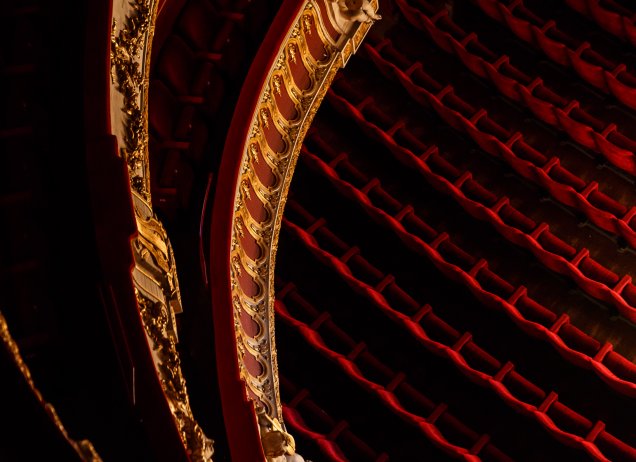 The House
1 .
Strasbourg, Mulhouse and Colmar.
The Opéra national du Rhin (OnR) owes its unique character to the special patronage of its three host towns: Strasbourg, Colmar and Mulhouse.
These towns run the OnR together as a syndicat intercommunal. Each city hosts its own artistic department: the Opera in Strasbourg, the Ballet of the Opéra national du Rhin in Mulhouse (a national choreographic center (CCN) since 1985) and the Opera Studio in Colmar, our center for training young singers. After over 45 years, our truly Alsatian institution has become a model for others. While remaining rooted in its region and in Europe, the OnR has become a staple of the French and international scene and was awarded the prestigious status of "Opéra national" in 1997. The OnR works closely with the Orchestre philharmonique de Strasbourg, directed by Marko Letonja and the Orchestre symphonique de Mulhouse, directed by Jacques Lacombe. These two directors manage the opera and dance productions. The OnR produces an annual program of more than 140 performances, recitals, concerts, and shows for young audiences. The OnR owes its reputation on the international scene to renowned directors such as Jean-Pierre Ponnelle ("The Magic Flute," "La Bohème" or "Turandot"), Achim Freyer, David Pountney, Philippe Arlaud, Alfred Kirchner, Stéphane Braunschweig, Georges Lavaudant, Klaus Michael Grüber, Christof Loy, David McVicar, Vincent Boussard, Olivier Py, Robert Carsen, Barrie Kosky, Mariame Clément, Jossi Wieler, Sergio Morabito, Pierre-Emmanuel Rousseau, and Marie-Eve Signeyrole.
2 .
The Opéra national du Rhin
The OnR employs 240 staff members and 700 seasonal artists and technicians.
The OnR has hosted some of the great voices of our time, such as Dame Felicity Lott, Susan Graham, Ludovic Tézier, Béatrice Uria-Monzon, George Petean, Karine Deshayes, Max Emanuel Cencic, Mireille Delunsch, Paul Gay, Stéphanie d'Oustrac, Ian Storey, Sylvie Brunet-Grupposo, Anne Sofie von Otter, Franz-Josef Selig, Stéphane Degout, Patrizia Ciofi, Anna-Caterina Antonacci, Christian Gerhaher, Karita Mattila, Marie-Nicole Lemieux, Anne-Catherine Gillet, Jean-François Lapointe and Marina Viotti.
We have also had exceptional conductors such as Marc Albrecht, Ivor Bolton, William Christie, Emmanuelle Haïm, Claus Peter Flor, Kirill Karabits, Bernhard Kontarsky, Louis Langrée, Alain Lombard, Enrique Mazzola, Kent Nagano, Michel Plasson, Carlo Rizzi, Claude Schnitzler, Constantin Trinks, Paolo Carignani, Daniele Callegari, Patrick Davin, Marko Letonja, Antony Hermus, Jacques Lacombe, Christophe Rousset and Franck Ollu.
Our program showcases both grand repertoire and contemporary pieces such as "Prova d'orchestra" and "Impressions d'Afrique" by Giorgio Battistelli, "Tristes Tropiques" by Georges Aperghis, "Die Gespenstersonate" by Aribert Reimann, "Aleksis Kivi" by Rautavaara, "Héloïse et Abélard" by Ahmed Essyad, "Ion" by Param Vir, or "L'Autre Côté" by Bruno Mantovani. After the French premiere of "Doctor Atomic" in the 2013/14 season and the world premieres of "Quai Ouest" in 2014/15 and the co-production "Penthesilea" with the Brussels-based opera house La Monnaie / De Munt in 2015/16, the OnR co-produced "Mririda" by Ahmed Essyad together with the Musica festival and the Conservatoire de Strasbourg.
The OnR has staged co-productions with the foremost international festivals, theater houses and operas: the festivals of Savonlinna, Schwetzingen, Aix-en-Provence or Maggio Musicale in Florence, the Welsh National Opera, the Royal Opera House of London, the Royal Danish Theatre in Copenhagen, the Staatsoper in Berlin, the Théâtre des Champs-Élysées in Paris, the Théâtre royal de la Monnaie in Brussels, the Musiktheater im Revier in Gelsenkirchen, the Lausanne Opera, the Teatro Real in Madrid, the Canadian Opera, the Opéra National de Bordeaux, the Bolshoi Theatre in Moscow, or the Zurich Opera House.
The Ballet of the Opéra national du Rhin strives to strike a balance between the great classics and contemporary works, reinterpretations and new pieces. Focusing on a certain number of choreographers or genres allows the Ballet to explore each particular style in depth. This dedication results in regular ballet shows by the likes of Balanchine, Forsythe, or Béjart and regular guest shows by choreographers such as Lucinda Childs. Unafraid of approaching "Giselle" and then switching to modern pieces, the company covers an immense stylistic range without overextending itself. This ensures great creative freedom for choreographers. The Ballet du Rhin has attracted major international names in choreography. Distinguished choreographers such as Maguy Marin and Thierry Malandain have given their debuts here.