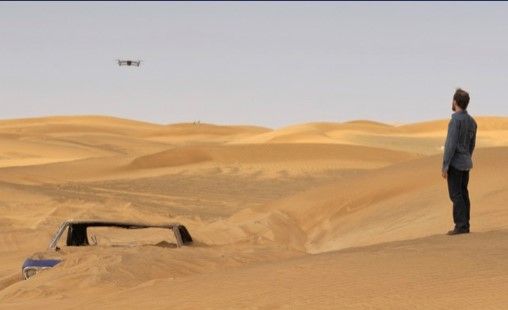 The Landing • Akram Zaatari
---
First screening in France
Akram Zaatari will introduce the film. After the screening, he will talk to Christian Longchamp, Artistic Director of Arsmondo Lebanon, and take part in a Q&A
Lebanon / United Arab Emirates – 2019 – 1'05
With Sharif Sehnaoui, Ali Hout and Abed Kobeissy
Drifting desert sand, abandoned household items and metal carcasses, experimental sounds and silence are the raw materials of a unique project that combines landscape art and musical performance. Filmmaker Akram Zaatari drew inspiration from a strange and disturbing site he discovered in Sharjah, one of the emirates of the United Arab Emirates, where abandoned houses, built in the 1980s for a Bedouin community, have become submerged by the desert.
Three men appear. They are like archaeologists exploring a buried world that they discover and reveal through sound. In this often playful composition at the intersection of sound and vision, nature and human intervention, the men strike walls and metal pipes, stir up the sand, find singing bowls, pluck strings, and project their voices through a giant megaphone. Who are they? Artists, no doubt in search of another artist, the desert.
With this film of bewildering strangeness and great visual beauty, Akram Zaatari also pays tribute to the Emirati artist Hassan Sharif (1951-2016), "whose esthetic sense was ahead of his time in the Arab world".
Akram Zaatari is a major contemporary artist. A filmmaker, photographer, visual artist, archivist, theorist, and exhibition curator who is passionate about the multiple political significances of archival imagery in the construction of Arab identity, he is constantly exploring new creative realms, as in his film The Landing. Another of his remarkable works, the film Twenty-Eight Nights and a Poem, was shown during the first part of the Arsmondo Lebanon Festival in March. Note that the musician Sharif Sehnaoui, one of the protagonists in The Landing, is also one of the artists in the collective who conceived the film Topologie d'une absence, made for Arsmondo Lebanon, which can be viewed again online from 10 to 27 June.