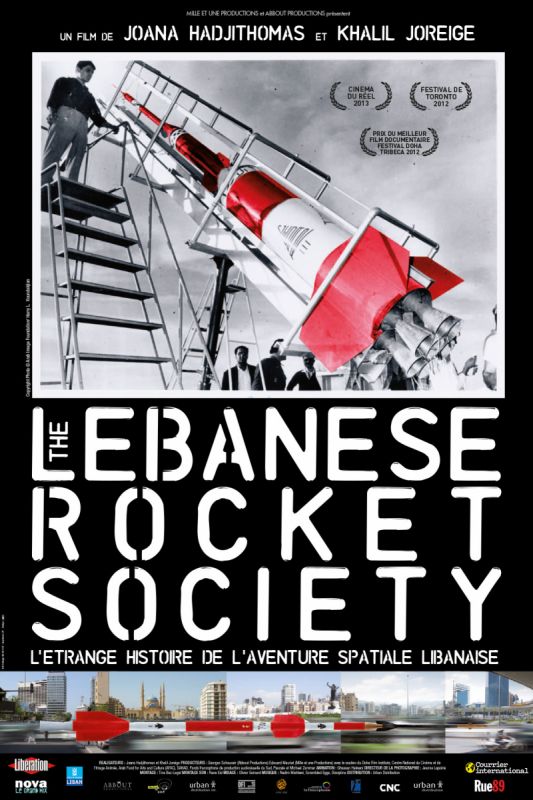 The Lebanese Rocket Society • Joana Hadjithomas and Khalil Joreige
---
The screening will be followed by a talk with the filmmakers hosted by Christian Longchamp, Artistic Director of the Arsmondo Lebanon festival, and a Q&A with the audience.
Lebanon – 2013 – 1'32 – original version with French subtitles
In Lebanon during the 1960s, young scientists at Haigazian University began dreaming of conquering space. While the Middle East was in turmoil and the idea of a pan-Arab power was gaining ground, and while the space race between the US and the Soviet Union was fueling the Cold War, Lebanese scientists were designing rockets! But the Six-Day War that extinguished the political utopia of an Arab power, the economic difficulties of the early 1970s that intensified inequality among Lebanese communities, and the horrific Civil War that began in spring 1975 and brutalized the country for more than 15 years, all combined to obliterate the scientific and industrial optimism of a time that seems inconceivable today.
Joana Hadjithomas and Khalil Joreige are among the most talented and original artists and filmmakers of our time. They were awarded the Marcel Duchamp Prize in 2017. They recently made Memory Box, a feature-length film presented in the official selection at the last Berlinale and scheduled for release in January 2022. During the first part of Arsmondo Lebanon in March, we showed their films Waiting for the Barbarians and Ismyrna.
With The Lebanese Rocket Society, presented in 2013 at the Toronto International Film Festival, Hadjithomas and Joreige revisit the extraordinary yet forgotten story of Lebanon's space program. They question the country's history through archives and personal testimonies, and reflect on our need for a sometimes dangerous fantasy of a golden age, as well as Lebanese people's inability to project themselves into any kind of future.