Place
Strasbourg
Cinéma Le Cosmos
Informations
ARSMONDO India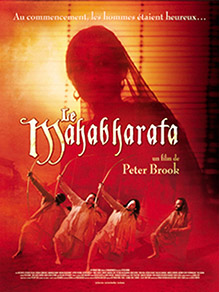 By Peter Brook, 1989 - 318 min - Original version w. FR subs
Cast: Robert Langdon, Bruce Myers, Vittorio Mezzogiorno, Andrzej Seweryn, Mamadou Dioumé, Yoshi Oida...
---
25 actors of 16 different nationalities in a show created in 1985 for the Avignon night. Peter Brook with Jean-Claude Carrière, author of a wonderful adaptation of the great Epic poem, created a show which marked the history of theatre. Gods and demons mingle with men, animals as natural elements express their desires in what composes an exceptional encyclopaedia of the Indian soul whose source is the war between two clans, the Pandeva and the Kaurava. In 1989, Peter Brook made a film adaptation of more than five hours which transformed this show into a real movie event.
"Style is even more minimal in cinema than in theatre", said Peter Brook when filming. "We tried to find in the studio all stage possibilities. The Mahabharata is an Epic, with heroes and gods, fabulous animals. At the same time, the work is intimate. That is to say, the characters are also vulnerable, full of contradictions. Totally human. Indians speak of it as parents who may ring the doorbell."
Come and discover this masterful work during a unique broadcast at the Cinéma Odyssée