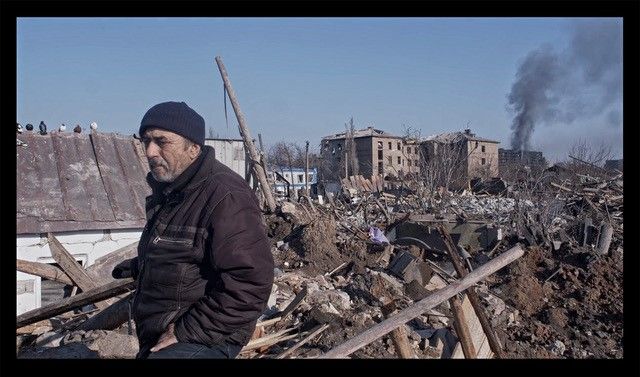 Mariupolis 2
directed by Mantas Kvedaravičius (2022, documentary)
---
Informations
Introduction by Kateryna Tarasiuk, lecturer in the Slavic Studies Department at the University of Strasbourg.
In 2016, as the Donbass war raged around Ukraine's port city, Mantas Kvedaravičius documented the lives of its citizens in his poignant film, Mariupolis. After the Russian invasion in February 2022, the filmmaker and anthropologist returned to the area to find the people he had filmed at the time. Mariupolis 2 captures their daily life as the bombing continues: an unfiltered immersion into the chaos of the Ukrainian city with few surviving civilians. Mantas Kvedaravičius was killed by Russian forces while trying to leave Mariupol. The Lithuanian filmmaker's footage was rescued by his partner, Hanna Bilobrova, and edited by Dounia Sichov to create a documentary of astonishing poetic force that reveals a fierce will to live.
---
Contemporary Ukranian cinema
Film projections and talks
Ukrainian cinema displays a unique vitality, ambition and diversity, forever steeped in the poetry of Slavic folklore while always highlighting current socio-political issues through a sharp lens. Russia's invasion of Ukraine in February 2022 calls for an examination of the country's current cinematic landscape. This season of contemporary Ukrainian film curated for Arsmondo reflects current events from the perspective of directors of various genres, from documentary to comedy drama. These screenings portray personal visions of the country and its artists grounded in the current context, but also open our eyes to Ukrainian history and culture.
Other films in the contemporary Ukranian cinema programme :